Afoot in the Heart of the Gorge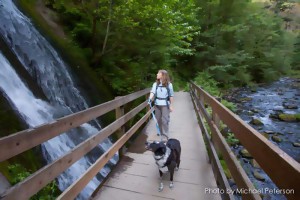 Where in Oregon can you take an old-growth forest hike—within city limits? That's right, you can in Cascade Locks. We also have the honor of being the only incorporated city on the Pacific Crest Trail. (It continues north across the Bridge of the Gods.)
In Cascade Locks you're at the center of the Gorge's best hikes. Even better, the trails that take off from around here range from easy walks that whisk you to wonderful sights, to foot-burners that challenge seasoned trail veterans—often leading to secluded waterfalls that few see.
Dry Creek Falls/Pacific Crest Trail #2000
Gorge Trail #400
Ruckel Creek Trail #405
Herman Bridge Trail #406E
Herman Creek Trail #406
Gorton Creek Trail #408
Wyeth Trail #411
Read about Hike to the not-so-dry Dry Creek Falls (by the Gorge Explorer in the Hood River News)
So gather your boots, packs, and cameras, and hoof it to Cascade Locks. And to make it easy—and portable—for you, we've included downloadable trail maps.
Note: Maps depicted here are schematic and not to be used for navigation purposes.
---
Some useful links if you are hiking the Pacific Crest Trail: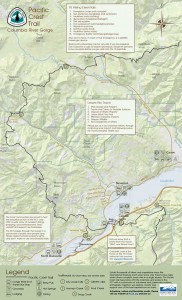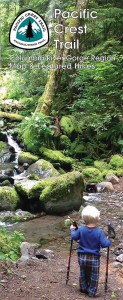 Produced by:
Pacific Crest Trail Association
Sponsored by:
Port of Cascade Locks
Thunder Island Brewing Co.
City of Stevenson, Washington
Friends of the Columbia Gorge
Martin's Gorge Tours
Oregon State Parks
Portland Spirit
Skamania County Chamber of Commerce
Skamania Lodge
Day passes can be purchased at Lorang Fine Art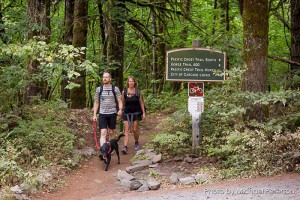 Itinerary & Links for Car-free Timberline to Cascade Locks PCT Hike
Mt. Hood Express Bus (Portland to Timberline)
West End Gorge Transit (Vancouver to Bridge of the Gods)
Other Cascade Locks Transportation Options
Central Oregon Breeze Bus (Portland to Bend)
Friends of the Gorge "Plan your own hike"
Trail Angel "Shrek" Joe Shelly in Cascade Locks:
intertrail@yahoo.com
503 327-9120
Pacific Crest Trail Aassociation Regional Rep Dana Hendricks:
dhendricks@pcta.org​
541 844-9133
---
Hiking Events in Cascade Locks
Each year, passing Pacific Crest Trail (PCT) hikers are celebrated and encouraged to share their tales along the trail at Pacific Crest Trail Days.  PCT DAYS is family-friendly and free to attend.  Check out the latest outdoor recreation products from exhibiting sponsors, participate in free classes & activities, watch an outdoor photography slide show and a documentary film, win awesome products at the raffle & auction, enjoy local food and beverages, participate in a trail work party, go for a hike or a bike ride, spend the weekend camping under the stars, and enjoy the beautiful setting on Thunder Island in Cascade Locks, Oregon.
Partake in an unforgettable experience of running/walking across the Bridge of the Gods while there is a full vehicle closure! This Half Marathon and 10K event will begin on the Washington side of the bridge with over 90% of both routes held on the paved Historic Columbia River State Highway Trail. The out and back will finish in Marine Park with the Bridge of the Gods in the background.  www.bridgeofthegodsrun.com
In addition to the Bridge of the Gods run, there is also a Bridge of the Goddesses Run.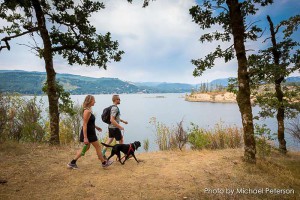 Every other year, the Columbia River Volkssport Club hosts the Columbia River Gorge Biennial Classic. More than 700 walkers came to enjoy the last event and even more are expected with the upcoming event. Each walk is rated for difficulty and distance. All walks are scenic and have been highly rated by all who have participated. For more information on this and other volkswalking events visit www.walkingforfun.org