At the Heart of the Columbia Gorge Scenic Area
Nestled in the heart of the beautiful Columbia River Gorge is the picturesque community of Cascade Locks. Already well known for athletic pursuits such as hiking, biking and sailing… another adventure awaits your visit!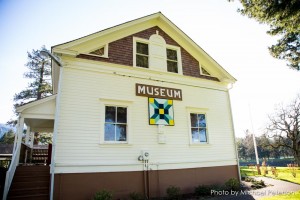 The Bridge of the Gods Quilters have created a colorful Quilt Block Trail for you to explore and learn more about the art of quilting. Fifty-five painted quilt blocks adorn homes and businesses throughout the community with more being added monthly. Follow the trail map to discover each special design.
About the Bridge of the Gods Quilters: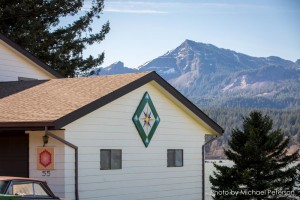 In February 2003, a group of women met and began to learn to quilt, each making a Log Cabin Quilt.  From that group, the Bridge of the Gods Quilters began. These women come from North Bonneville, Stevenson, Husum, Cascade Locks, and Hood River. They meet weekly and the second Saturday of each month. Over the years, they have completed many quilts: many for Providence Hood River Memorial Hospital, to comfort community members, for kindergarten children when they were able to take a nap/rest during their school day, for community people in remembrance of a loved one, and during a period of time, "pet beds" (from fabric scraps) for local animal clinics. This community of quilters want to share their love of quilting and one member suggested the idea of quilt blocks on homes and businesses for others to enjoy. Enjoy our Bridge of the Gods Quilt Block Trail!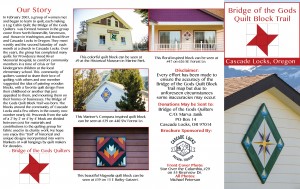 Download page one of the Bridge of the Gods Quilt Block Trail Map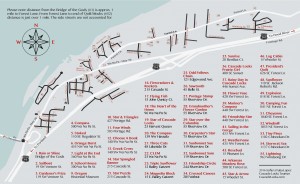 Download page two of the Bridge of the Gods Quilt Block Trail Map