You're in the Ride Place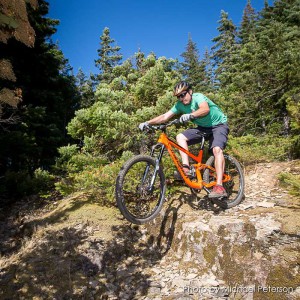 Away from the bustle (and car horns) of the city, in the heart of the Columbia River Gorge, Cascade Locks is quickly being discovered for cycling adventures with businesses welcoming cyclists in town. We're an ideal stop along the Historic Highway State Trail, to grab a bite or take a break in Marine Park. With plenty of free parking always available, Cascade Locks is an ideal spot for setting out. And it's just getting better. That's because Cascade Locks is working on adding rides, trails, and events to our biking repertoire—for both road and trail bikers.
Visit our Bike Friendly Businesses. Bring your kids out to the easyCLIMB for a family mountain bike adventure!
Organized Rides
Cascade to Crown Bike Ride
A fantastically scenic non-competitive annual ride event with several mileage options. Route begins along the paved Historic Columbia River Highway State Trail. The State Trail is closed to all motorized vehicles.  For more information, and to register, visit: www.cascadetocrownride.com
Download the easyCLIMB Brochure.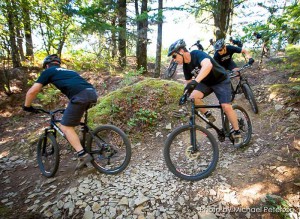 In addition to the easyCLIMB, the Port of Cascade Locks is exploring the possibility of a mountain bike trail system just outside of the city: the Cascade Locks International Mountain Bike Trail (CLIMB). A feasibility study and conceptual plan have been completed, but the completion of this exciting trail is 1 to 2 years away.
Road Biking in Cascade Locks
"Any way you look at it, the Historic Columbia River Highway Scenic Byway is a marvel—for its visionary engineering, incredible scenery, and rich history. Internationally lauded for spectacular waterfalls, architectural gems, and magnificent overlooks of the Columbia River Gorge, it's no wonder this Byway has been called "King of Roads."
Construction of the Historic Columbia River Highway began in 1913, and was considered one of the greatest engineering feats of the modern age. Its engineer, Samuel C. Lancaster, did "not [want] to mar what God had put there," and worked diligently to showcase the many waterfalls and other "beauty spots" on the highway's route through the Columbia Gorge. There are numerous historic resources along the highway. In fact, the Historic Columbia River Highway, the first scenic highway in the U.S., is a National Historic Landmark." —traveloregon.com
The Oregon Department of Transportation has produced a series of maps of the bike routes along the Historic Columbia River Highway. Download two from this series. One is from Troutdale (near Portland) to Cascade Locks. The other is from Cascade Locks to Hood River.