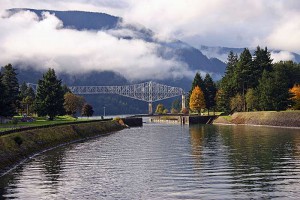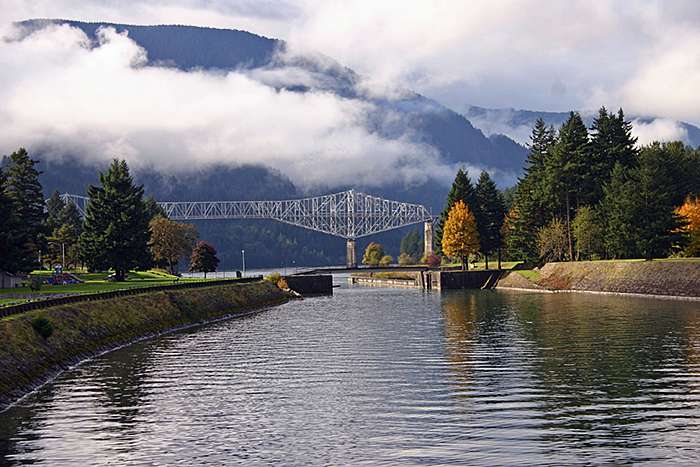 Cascade Locks is one of the oldest towns on the Columbia River. It sits on a section of the river that Lewis and Clark described in their journals as the "great rapids of the Cascades," a stretch of raging water more than two miles long that was formed by a massive ancient landslide. Because of the dangerous rapids, pioneers moving west had to stop here. A small settlement grew up on the banks of the river in the early 1850s to help travelers portage around the rapids, first by foot, then by mule-drawn rail cars, steam engines, and finally riverboats. Cascade Locks was home to the first steam engine west of the Mississippi, the Oregon Pony, built in 1862 to carry passengers and freight past the rapids (now on display in the Marine Park next to the Cascade Locks Historical Museum).
This was the dawn of the sternwheeler era. In the early years, daring captains tried to shoot the rapids in their large, flat-bottomed boats, often with disastrous results. In 1880 the US Government began work on the navigation locks to provide safe passage around the rapids. The locks were completed in 1896, and modern-day Cascade Locks was born. For the next 40 years, riverboat whistles echoed in the Gorge each day as the boats made their way up river to the ports of eastern Oregon and Idaho and down river to the Pacific.
The completion of Bonneville Dam in 1938 tamed the great rapids forever and turned the river fronting Cascade Locks into a magnificent lake known for lively currents of air. Boats continued to ply their trade up and down the Columbia, and the town continued to thrive, fueled by large lumber mills and the vast timber stands in the surrounding mountains.
Today Cascade Locks has entered yet another new era as a destination for visitors seeking world-class recreation opportunities in a breathtaking natural environment.
Please be our guests and discover this beautiful and historic town.