Cascade Locks, Oregon—BRIDGESIDE is the new name of the former Charburger, a Cascade Locks restaurant with a history stretching over a half-century. The fresh name reflects a new vision for this popular tourist stop, while much will remain the same and be familiar to long-time customers.
It's never an easy decision to rebrand an established restaurant, especially one of regional significance along the historic Columbia River Highway, and the new Bridgeside brand is no exception. "Owners spent a great deal of time weighing pros and cons of a name change, and ultimately decided the Charburger name limits the vision we have for the restaurant," explained Chuck Hinman, general manager at D.M. Stevenson Ranch. "The name Bridgeside tells a better story about the restaurant's incredible location, and allows more flexibility to promote breakfast, lunch, dinner, and banquets."
The new name highlights the restaurant's location next to regional landmark Bridge of the Gods (named after the natural dam of Native American folklore) and alludes to the stunning views overlooking this special pocket of the Columbia River Gorge.
The 200-seat Charburger restaurant underwent extensive renovations last year, shortly after D.M. Stevenson Ranch's purchase in July 2013. Those improvements included a new kitchen installation, freshening of the building interior and exterior, and an expanded menu. The kitchen remodel included installation of all-new equipment, a complete makeover of floor, ceiling and wall finishes, plus new HVAC and hood ventilation systems. Interior and exterior improvements included deep cleaning, painting, new tabletops, and bathroom remodel.
The 7,500 square-foot complex consists of the dining room, a gift shop, and lower level banquet / special event space. The updated special event space, formerly Sam Hill's Den, is renamed "Bridgeside Terrace." Bridgeside Terrace includes 1,800 square feet of indoor banquet space with bar, plus a 1,500 square feet outdoor terrace that seats 80 overlooking the Bridge of the Gods and Columbia River Gorge.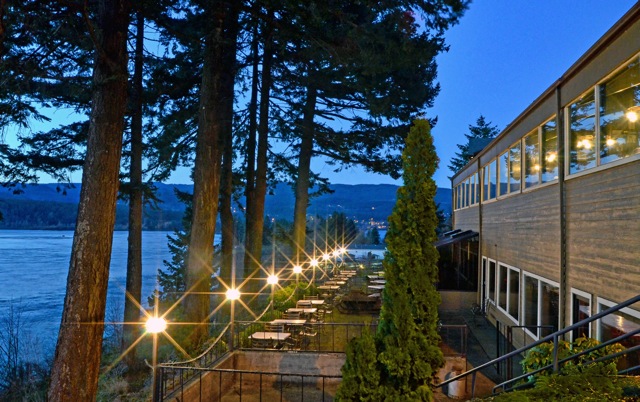 "Although we've made numerous improvements, we've retained the historic look and feel of the restaurant." Hinman explains. "The purchase included the collection of Native American and western artifacts that patrons have appreciated over the decades and we intend to preserve them."
Bridgeside's menu will continue to primarily offer a variety of char-broiled burgers, French fries, fish and chicken strips, plus salad bar in the traditional Charburger cafeteria-style format. Executive Chef Mark DeResta expanded menus to incorporate his renowned housemade granola and veggie burger, corned beef hash, salmon chowder, and tomato bread soup. Rounding out menus are omelets, pancakes, specialty burgers, housemade chili, fresh Columbia River salmon (in season), steak and desserts. Breakfast, lunch and dinner menus are available online at BridgesideDining.com. DeResta is also Executive Chef at Riverside in Hood River.
The Bausch family owned Charburger for 50 years before Dan and Judy Bausch sold it to D.M. Stevenson Ranch. Both families have deep roots in Portland and the Columbia River Gorge. The restaurant was built as a drive-in in 1946 and purchased by Les Bausch in 1963—the same year segments of the new Interstate bypassed the old Columbia River Highway. Bausch previously worked for the Manning's cafeteria-style restaurant chain at Lloyd Center. He expanded Charburger from a drive-in to the current cafeteria eatery in 1972, creating a dining destination complete with panoramic Columbia River views and regional memorabilia.
D.M.Stevenson Ranch also purchased the 63-room Best Western Plus Columbia River Inn next door to the Charburger in 2013. Hotel guests receive complimentary breakfasts at Bridgeside. D.M. Stevenson Ranch also owns the Best Western Plus Hood River Inn and its onsite restaurant, Riverside, 20 miles east of Cascade Locks in Hood River, OR. D.M. Stevenson Ranch is a limited liability corporation based in White Salmon, Washington, made up of 28 partners from the Stevenson family.
For more information, visit BridgesideDining.com.