The heart of it all – Cascade Locks.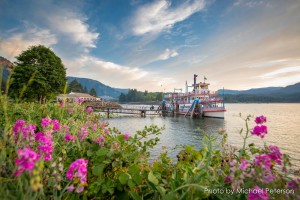 When the mountains of the Columbia River Gorge rise above you and the waterfalls tumble silver from the heights, when the river reaches to beyond, a wondrous thing happens. You breathe easier. Your heart lets loose. You come home to yourself.
At the heart of it all, you'll discover a small town. A genuine town full of friendly folks waiting to say, "Hi."  Here, in Cascade Locks, you're free to choose—between big adventures, and life's small pleasures.
Ride our Sternwheeler on a river of stories—from ancient native fishers to Lewis and Clark. Sail our world famous winds. Hike our trails to hidden waterfalls, or vast vistas. Fish our award-winning waters. Have an ice cream. Grab a bite. View the beauty that surrounds you. Visit a gallery to see it through our artists' eyes. Shop unique shops. Bike our paths, free of traffic. Have an old fashioned picnic in our park—play pirate with your kids on Thunder Island. Stay the night.
From big adventures to small pleasures, we're your choice location. Welcome to Cascade Locks.
Upcoming events in Cascade Locks:
AEC v1.0.4
For more events, see our Event Calendar
Everyone's talking about Cascade Locks:
BikePortland.org, Adventure Cycling, Seattle Times, Oregonian
Cascade Locks is just forty-four miles from Portland: